Sencotel Hot Chocolate Machines CH105 and CH110
Other Equipment > Category : Hot Chocolate / Coffee Equipment by Sencotel , Spain > Products
Sencotel Hot Chocolate Machines CH105 and CH110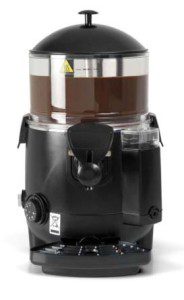 CH hot chocolate machines have been designed to heat and mix any kind of drink (tea, coffee, milk, mulled wine, etc.) and chocolate in a special way that ensures its smoothness and thickness.
The machines prepare the hot chocolate simply and effortlessly using the professional "bain-marie" method, making for an excellent result and saving time into the bargain.
WHY CHOCOLADY?
Power at your disposal. The most advanced chocolate dispenser on the market, perfect for all hot beverages.
Chocolady is the new dispenser designed for chocolate and for all hot beverages like tea, coffee, milk, mulled wine, etc.
Chocolady features the perfect Bain Marie heating system, thanks to this system Chocolady maintain the product at the correct serving temperature and prevents product burning ensuring a premium chocolate flavor and aroma.
The interior rotating paddle maintains the product moving inside of the crystal clear bowl, which draws client attention and catches impulse buying. Plus the continuous stirring ensures a perfect product lump-free consistency for the best chocolate experience.
Chocolady is equipped with an adjustable thermostat that senses the product temperature, it allow you to keep your hot chocolate from 0°C/32°F to 85°C/185°F.
The anti-clogging tap design prevents down
TECHNICAL FEATURES :
• Bain-marie heating of product prevents burning.
• Continuous stirring maintains a perfect, lump-free consistency.
• Thermostat for adjusting temperature as required.
• Special anti-clogging spigot.
• Stainless steel boiler, with thermal insulation.
• Non-slip feet.
• New product bowl that can be removed quickly.
• Large drip tray with water level gauge.
• Hot water tank with easy emptying process.
Specifications
CH-5L
CH-10L
Capacity
5L (1.3 Gallons)
10L (2.6 Gallons)
Voltage
115V/60Hz
115V/60Hz
Power, Amp
1000W, 8.2 A
1000W, 8.2A
Net Weight
9 Kg (19.8lbs)
9.5 Kg (21lbs)
Temp. Control
Adjustable
Adjustable
Temp. Range
0-85°C, 32-185°F
0-85°C, 32-185°F